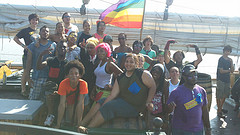 Clearwater still has some spots for youth ages 15 - 18 on an overnight trip aboard the tall ship exclusively for the LGBTQ+ community and active allies, July 27 - 28, sailing from Poughkeepsie.
For more information and the application, visit: http://www.clearwater.org/education/youth-empowerment/
Please share far and wide!
WHEN
July 27, 2017 at 9:00am - July 29, 2017
WHERE
Hudson River Sloop Clearwater Inc.